RACEBOOK
CITIbet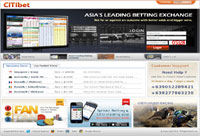 Asia's leading online Horse Racing and Greyhounds betting bookmaker.
CITIBET are Asia's leading online horse and greyhounds betting exchange that operates at the lowest bookmaking margins. This will ultimately equate to having the best possible odds for you. To intensify your betting experience, check out their live horse racing feature and catch all the excitement right from your computer!
-- click to view more --
Welcome to 12WinAsia's Racebook!
-- click to view more --
Do you love betting on horses – or greyhounds? Do you love the thrill of finding out which majestic animal is the fastest, the strongest and the greatest in a race? If you love the races and are looking for a way to bet on them, then you have come to the right place where the most trusted online casino Malaysia is here.
Get a Chance to Make Bets Across Borders!
When you join 12WinAsia's racebook, you can make a Malaysia online bet on races taking place Hong Kong, Singapore or even right here at home!
Whether you want to make a bet on that special greyhound or that superb stallion (or mare!), then we give you a chance to do so with the Citibet online Malaysia bet platform for all kinds of sports. This platform is by far the most popular platform for racebooks, and we at 12WinAsia give you direct access to it.
Citibet offers you a chance to place your Malaysia bet on horse and greyhound races across the region. So, whether you wish to bet on your favorite on harness racing, horse racing or greyhound racing, we can help you place those bets.
We know that to make the right bet, you need to have all the information about the horses, the dogs, their histories, the races they have run, the conditions of the racetracks and so on. Which is why we offer you Citibet. With this platform, you get all the information at your fingertips! And thanks to all the information available on Citibet, you can schedule your bets to your convenience.
Ring Betting – A Unique Feature
One unique feature Citibet has that other Malaysia online bet platforms do not have is the Ring betting feature. You can bet on your favorite horse or greyhound even when the animals are in the Ring. This means that you do not need to wait until the last minute to place your bets – especially if you are sure that you have picked a winner.
To bet on your favorite (or favorites), all you need to do is pick the horse (or greyhound) on which you wish to bet while they are being shown in the ring. This where many consider as sportsbook Malaysia is one of a kind, something not offered by any other online racebook in the country. And we at 12WinAsia offer you this facility!
Making Live Bets
Our racebook offers live bets, which means that you can place your bet during the race, and this can increase your chances of winning significantly! Another plus of making an online live casino Malaysia bet while the race is on is the thrill that you get – you're also racing against time to place a bet on the horse or greyhound of your choice! Will you be able to make that bet in those precious few minutes of that frenetic race? Find out by placing your bets with 12WinAsia!
Betting Transparency
We know that betting can affect the odds and that makes a huge difference on the payouts. And since we want our racebook to be as transparent as possible, you can see which other punters have bet on the horses or dogs. This way, you know exactly what the odds are on a particular horse, and how many players have bet along with you.
Join Our Racebook Now!
When you make your bet on top online casino Malaysia in our racebook, you will not have to worry about getting the results, your cash wins, withdrawals, deposits, or any other details. All you will need to do is focus on the races of your choice, make your bets and watch those magnificent animals run to victory!